I was inspired by the story written by Sebata-san, Go Deeper Upstream with Skill. I enjoyed learning his story, where Sebata-san describes how he learned tenkara, and also the "secret" of tenkara: " "Ah ha, I need to slow down by one breath. This is the secret of tenkara fishing", he says. But, what really inspired me was how we went deeper, and took the time to describes what makes the tenkara experience whole, for him at least.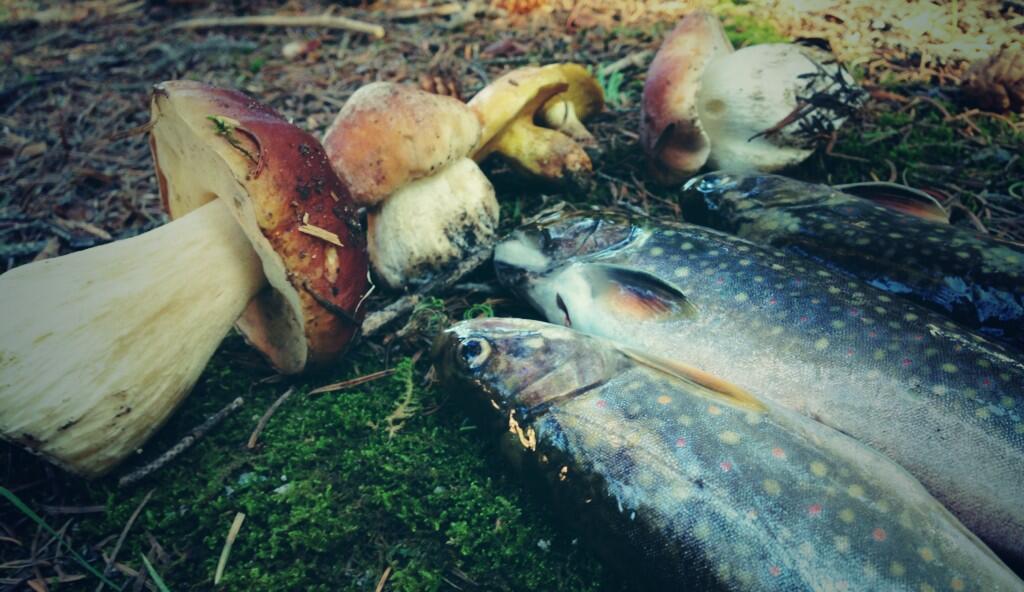 Since I was a little kid I have been a bit of a forager. My parents instilled the interest in "free foods" found in nature by stopping on the side of the road to take fruit they spotted while driving. Guavas were my favorite. But my parents were not much of the wild foraging type though, it was more of a drive-through foraging experience with them. My grandfather, on the other hand, would take me on walks in the woods and show me the use for every plant we came across. Unfortunately the knowledge did not stick; luckily, curiosity did.
Mushrooms were the one thing neither my parents nor my grandfather ever touched. Like most people in Brazil, where I grew up, and here in the USA, my family was afraid of mushrooms and figured it would be best to not touch them.
Sometimes I like to go deeper upstream too. When I found tenkara, I thought it would be a perfect complement to my backpacking trips, and that's a big part of the reason I fell in love with it. As I strived to remain ultra-light, I figured the 7 oz kit of a tenkara rod, line and some flies could even replace the need to bring much food with me; I would supplement my diet with freshly caught trout. I tried learning about edible plants while living in California, and occasionally would come across something I could use, but on the drier Sierra Nevada we didn't get nearly as much wild mountain vegetables as Mr. Sebata can find in Japan.
This year I decided to really delve in the world of mushrooms and edible plants. I have been studying every mushroom I find, and joining a local group of some mushroom forays. I have also been trying to learn at least one new plant every time I go for a hike, which is pretty much every morning with my dog. I spend a lot of time outside, so I figured I should learn more about what I can eat should I come across it or should I ever need it.
Today, Margaret and I decided to go deeper into the mountains…to acquire more skill in finding and identifying mushrooms, more specifically with an interest in finding the prized boletes that are coming up now and can be a great addition to meals in future trips.
Mushroom hunting was the primary objective of today's trip. So, when I came across a stream, I initially didn't think of fishing at all, we had the dog along (not the best fishing dog in the world) and I was focused on the task at hand. But, then I remembered the stream that I was staring at was a brook trout stream. You see, brook trout are an invasive species to these areas, and even though I am a mostly catch-and-release angler, it's really not a bad thing to take some brook trout home. There is even a blog called "Eat More Brook Trout". Plus, if we found some mushrooms most certainly we would go home and cook them, but mushrooms alone don't make a complete meal. So I armed the tenkara rod and proceeded to catch as many trout as we needed for a complete foraged meal of mushrooms and trout.
Talking of a meal, it's time for me to shut the computer down and cook today's bounty. Luckily Sebata-san already wrote the conclusion I'm trying to make with this story:
"Tenkara fishing is very simple, which makes me feel I am a part of the mountains. If you want to submerge yourself deep in nature, it is the best fishing style. But just through the act of fishing, we won't be able to enjoy real thrill and joy of tenkara fishing. Fishing becomes much more fun by experiencing the joy of being able to be a part of nature and learning something new in nature."
Facebook Comments
comments
« Weekend reading: Sebata-san Go deeper upstream with skill Reduce, reuse, recycle »