Being at the fly-fishing shows has been much more fun than I thought it would be! Originally intimidated by the prospect of participating and introducing tenkara to the large Fly Fishing Show audience, I have realized this was unfounded. Tenkara was very warmly received by hundreds of anglers who stopped by yesterday and today.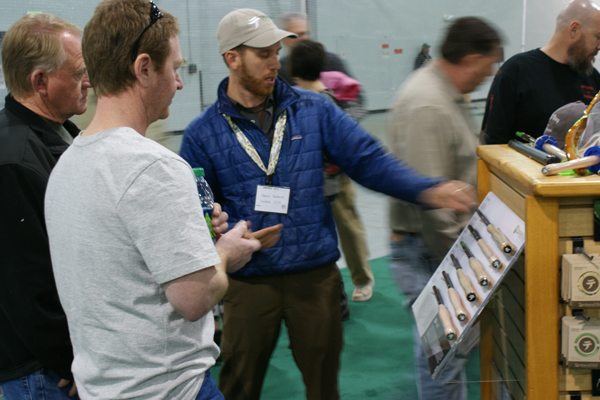 Today was our second day at the Fly Fishing Show supporting our dealer, the Rigs Fly Shop.
These two days went by as in the blink of an eye, not a moment to stop and I am not complaining. I have given 3 presentations so far, and several casting demonstrations (2 official ones) – showing to a lot of people that tenkara is not dapping after all.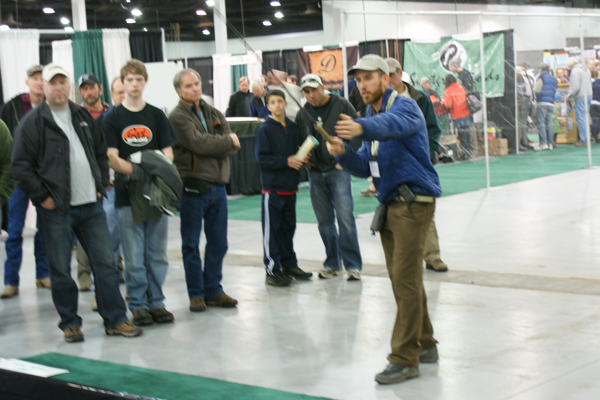 It has been great to connect with a lot of customers, many whom I was meeting for the first time, and some whom I had already met. We – meaning myself, the great folks from Rigs and yes! our customers – introduced loads of people to tenkara in these last two day. One of the coolest things to see was our most passionate customers stopping by the booth and hanging around and introducing friends and passersby to tenkara. To all of you who have stopped by today and who stop by tomorrow, thank you!
It was also very pleasant to reconnect with John Gierach, Ed Engle and hang out with Steve Schweitzer, author of the super useful book "A Guide to Fly Fishing Rocky Mountain National Park". These guys are very well known in the fly-fishing scene here, with their badges clearly stating "celebrity". So, being able to spend time talking to them and know they are into tenkara, lends a lot of comfort to our work here.

Thank you to Jason Klass, of Tenkara Talk, who took a couple of nice pictures, posted on his website and allowed me to use them here.
Facebook Comments
comments